Posts tagged Asian
If current trends hold, the number of immigrants from China and Taiwan could overtake those from Mexico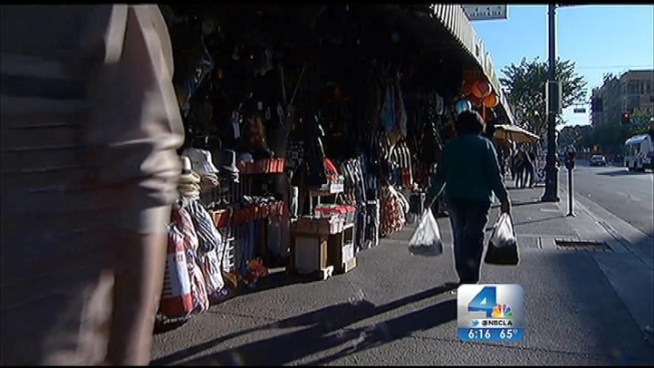 Gordon Tokumatsu
New statistics show Asians are coming to California in great numbers than Latinos. A larger Asian population could translate into Asian-centered loans, to scholarships, and candidates for office. Gordon Tokumatsu reports from Chinatown for the NBC4 News at 6 p.m. on Jan. 17, 2013.
Immigration to California from Asia has overtaken the long-running influx from Latin America, marking a shift that one expert says is based in economic conditions, border enforcement and deportation.
A new analysis of U.S. Census data from the Public Policy Institute of California shows that Asians are coming into the Golden State at more than twice the rate of immigrants from Latin American countries.
"The main reason is related to the economy. Most people who move are doing so because of jobs and economic opportunities," said immigration expert Hans Johnson, co-director of research at PPIC, in an interview with NBC4. "With the decline in the economy, there is less of a magnet to California and the U.S."
Immigrants from Asia tend to be relatively highly educated, Johnson said, and thus find more job opportunities available to them.
"The highly educated, highly skilled workers are in greater demand. When we look at immigrants from India, over 70 percent have a bachelor's degree. That's far higher than from Latin America and for California natives," Johnson said.
Related: Asian Immigration on Rise in CA, But Challenges Remain
Immigration from Latin American countries, and especially from Mexico, has plummeted since 2004-05, when about 142,000 newcomers to California came from Spanish-speaking Central and South America, an analysis from PPIC shows.
In 2010-11, the number of Latin American immigrants had dropped to a little more than 60,000.
In the same time period, immigration to California from Asia rose from about 108,000 to nearly 160,000, with the greatest portion coming from China and Taiwan, India, the Philippines and Korea.
Asians accounted for 36 percent of California immigrants in 2004 – a portion that rose to 57 percent in 2011. The opposite trend was seen for Latin Americans, whose portion dropped from 48 percent to 22 percent.
In the same period, the number of immigrants specifically from Mexico dropped from about 110,000 to about 42,000.
If current trends hold, immigrants from China and Taiwan are poised to overtake incoming Mexicans.
The change "could represent the end of an era," Johnson told the Sacramento Bee, which originally reported the new data.
The shift is being caused by immigration policy in addition to economic conditions, Johnson said.
It's become harder to get into the country from Mexico and more difficult to stay, he said, because of increasingly intense border patrols. And, within the past four to five years, a higher deportation rate nationally has also had an impact on the number of Latin American immigrants in California.
Whether the shift is an aberration related to the economy or the "new normal" remains to be seen, Johnson said.
Follow NBCLA for the latest LA news, events and entertainment: iPhone/iPad App |
source: http://www.nbclosangeles.com/news/local/Asians-Overtake-Latin-Americans-Immigration-California-Population-187391641.html

Posted by Keith Mizuguchi on Jan 11, 2013
So far this year, January has been the month of openings, both in San Francisco and across the Bay. And one of the hottest spots has been The Ramen Shop in the Rockridge neighborhood of Oakland.
Open now for about a week, the creation of three friends, Sam White, Jerry Jaksich and Rayneil De Guzman, has been packed each night, in fact, selling out on opening weekend. The menu so far features three starters and three ramen choices; expect more add-ons as the weeks go by. They also have ice cream sandwiches for dessert and a large beer and wine list along with three cocktails rounding out the menu.
The noodles are made in-house and are definitely thicker and chewier than most ramen places. While the menu has been changing on the fly, I was able to try both the Spicy Miso Ramen and Shoyu Tonaktsu Ramen. The Spicy Miso has a really nice kick to it; talking to the team, they said the hard part was making the broth spicy enough, but not too spicy to overpower everything else. It was topped off with spit-roasted Llano Seco chasu, a salt-cured egg and cilantro. The Shoyu Tonkatsu had perhaps the creamiest and richest ramen broth I have ever had. There is also a vegetarian option on the menu. While the bowls seem a bit more pricey ($13-16 each), with the freshness of ingredients and intensity of the broth, it is well worth it.
Starters included a salad, kimchee and fried rice and they had two available ice cream sandwiches, black sesame and malted milk.
While the space may seem small from the outside, it is actually very long with plenty of tables and a large area in front of the kitchen. The general feel is exactly what one would expect from a ramen shop – comfort and hominess. There is a real sense of Japan with touches of California mixed in.
The restaurant does not take reservations and is open from 4:00 p.m. – Midnight each night (closed on Tuesdays). Quick tip: head there early to beat the dinner time crowds. It is definitely a bit more relaxed for the first hour or so. Excited to see what else is on tap. The Ramen Shop is located at 5812 College Avenue in Oakland.